Introduction to App Store Optimization(ASO)
In today's world, mobile apps play a major role in our daily lives and have become an essential part of our routine. With the widespread use of smartphones and the growth of the app economy, businesses need to have a strong online presence in order to remain competitive. This means having a well-optimized app in the app stores, which is where most people go to download and purchase apps.
Netstech is a top-tier technology agency that offers a full range of app store optimization (ASO) services to help businesses achieve better visibility and increased downloads from the app stores. The main goal of ASO is to optimize an app's ranking and visibility in the app stores so that it can reach more potential users. By utilizing various techniques and strategies, Netstech helps businesses improve their app's discoverability and increase the number of downloads.
In the fast-paced digital age, having a strong app presence is crucial for businesses to stay ahead of the competition. Netstech understands the importance of ASO and provides comprehensive services to help businesses reach their target audience and achieve their goals. With the help of Netstech, businesses can optimize their app to reach the top of the app store rankings and increase their downloads, ultimately leading to greater success and growth in the highly competitive app market.
Netstech is a leading technology agency that specializes in providing comprehensive app store optimization (ASO) services to businesses. ASO is the process of optimizing a mobile application for the app stores, such as Google Play Store and Apple's App Store, in order to improve its visibility and increase downloads.
Netstech's ASO services cover all aspects of optimizing an app for the app stores, including keyword research, app title and description optimization, app ranking, and app reviews and ratings management. The agency uses cutting-edge technologies and strategies to help businesses reach their target audience and achieve their desired results.
By leveraging Netstech's ASO services, businesses can increase their visibility on the app stores, which in turn leads to more downloads, higher engagement, and a greater return on investment. Netstech's team of experts is dedicated to providing customized solutions to meet the unique needs and goals of each client, and they continuously monitor and adjust their strategies to ensure the best possible results.
What is App Store Optimization (ASO)?
App Store Optimization (ASO) is a crucial aspect of mobile app marketing. With millions of apps available in app stores like Google Play and Apple's App Store, the competition is fierce. It can be challenging to get your app noticed among the vast sea of available options. This is where ASO comes into play. ASO is the process of optimizing your mobile app to rank higher in an app store's search results. The primary objective of ASO is to increase the visibility and discoverability of your app, making it easier for potential users to find it. This can be achieved by using specific tactics to enhance your app's ranking in the app store. One of the key components of ASO is keywords. By identifying the keywords that are most relevant to your app, you can optimize your app's title, description, and metadata to rank higher in search results. For example, if your app is a workout app, you might target keywords like "fitness," "exercise," or "health."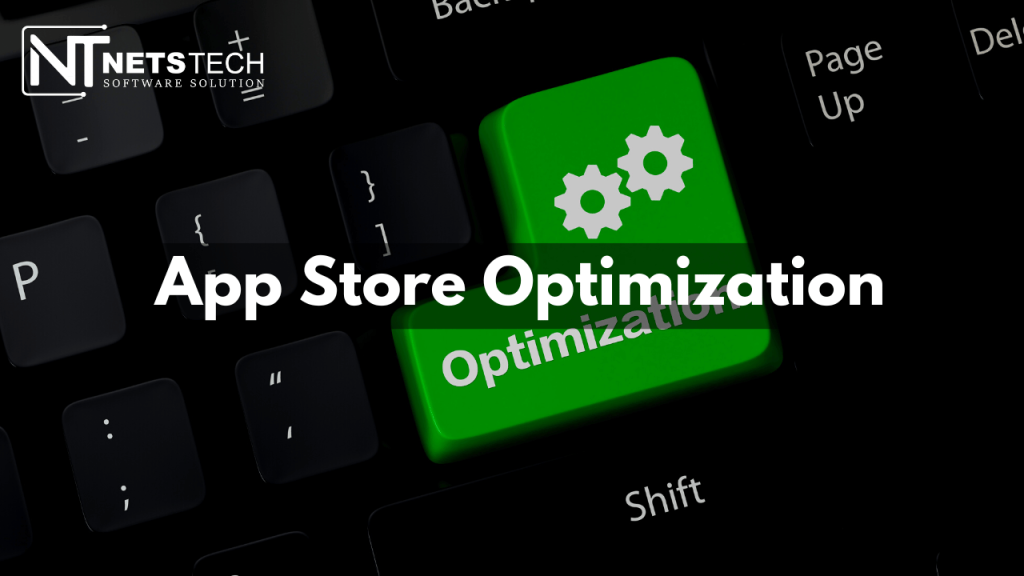 Another crucial aspect of ASO is user engagement. When users download and use your app, they provide valuable feedback through ratings and reviews. This information helps the app store understand how users perceive your app and adjust its ranking accordingly. So, it is important to provide a high-quality user experience to encourage positive reviews and ratings.
Additionally, ASO involves tracking the performance of your app and making adjustments as needed. This includes monitoring download rates, user engagement, and other metrics to understand what is working and what isn't. You can then make changes to your app's design, content, or other elements to improve its performance and visibility.
How Netstech Can Help with ASO?
At Netstech, we have a team of experts who specialize in ASO and have a deep understanding of how the app stores work. Our team uses a data-driven approach to analyze and optimize all the elements that impact app store ranking, such as keywords, descriptions, titles, reviews, and more. We work closely with our clients to understand their goals and develop a customized ASO strategy that is tailored to their unique needs.
Keyword Research and Optimization
Keyword research and optimization is a critical aspects of any successful app store optimization (ASO) strategy. This process involves identifying the keywords that are most relevant and high-traffic for a particular app. Our team of experts will conduct a comprehensive analysis of both the app and its competitors to determine the best keywords to target.
The analysis includes examining the app's metadata, such as the title, description, and keywords, to determine the most appropriate terms to include. This step is crucial because the app's metadata is used by the app store's algorithm to determine the app's relevance to a user's search query.
Once the best keywords have been identified, our team will optimize the app's metadata by including these keywords in the title, description, and keywords section. This optimization will improve the app's visibility and increase its chances of appearing in the top results for these keywords.
Overall, keyword research and optimization is an essential component of a successful ASO strategy because it helps the app reach its target audience and increase its visibility in the app store. By leveraging the expertise of our team, you can ensure that your app is optimized to perform well in search results, attracting more downloads and increasing its overall success.
User Acquisition and Retention
Netstech is a company that focuses on not only increasing the visibility of your app in app stores but also on acquiring new users and retaining them. The team at Netstech works closely with clients to develop a marketing strategy that is comprehensive and effective. This strategy includes various tactics such as promoting the app on social media, utilizing influencer marketing, and paid user acquisition campaigns.
In addition to the acquisition, Netstech also provides ongoing support to help clients improve user engagement and retention. This is achieved through the use of in-app messaging, push notifications, and other retention tools. The goal is to keep users engaged with the app and encourage them to return, which can lead to increased usage and loyalty over time.
Netstech, we hold the strong conviction that data is the key to achieving successful results in the app industry. To accomplish this, our team leverages a range of data sources including app store analytics, web analytics, and other sources. We utilize these tools to monitor and assess the performance of our clients' apps, allowing us to gain a comprehensive understanding of how the app is being received by users.
Through regular reviews of this data, our team is able to identify areas where the app is performing well, and where there is room for improvement. Based on this analysis, we make informed decisions about how to optimize the app store optimization (ASO) strategy, ensuring that the app continues to perform at its best. This approach of using data-driven insights to drive results is at the heart of what we do at Netstech.
By using a combination of these data sources, we are able to get a more complete picture of the app's performance, allowing us to make the necessary changes to keep the app relevant and engaging to its target audience. Whether it is improving the app's ranking in the app store, increasing visibility and downloads, or boosting engagement and retention, our team is dedicated to using data to drive results and help our clients achieve success in the app industry.
Dedicated Account Management
At Netstech, customer satisfaction is a top priority. The company understands the importance of providing exceptional customer service and support, which is why they have implemented a dedicated account management system. Each client will be assigned a dedicated account manager, who will serve as their primary point of contact throughout the entire process of app store optimization (ASO).
The dedicated account manager will work closely with the client to understand their goals and objectives, and will strive to ensure that these are met and exceeded. They will provide guidance and support throughout the entire ASO process, from start to finish. This includes analyzing the client's app, identifying opportunities for optimization, developing a strategy, and monitoring progress.
The goal of the dedicated account management system is to provide a high level of customer support, which is personalized and tailored to each client's unique needs. The dedicated account manager will be available to answer questions, provide updates, and offer suggestions for improvement. This will help ensure that the client's app is optimized effectively and that their goals are met in a timely and efficient manner.